History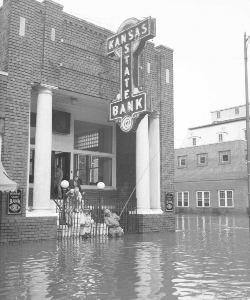 Kansas State Bank was chartered in 1917 by Glen H. Hill. His son, Robert S. Hill, joined the bank in 1948. The bank is very proud to be serving the community with the same name, same location, and same great service for over 100 years! While the bank has grown and added locations, it remains a community bank, "with hometown people that you know", serving Franklin, Douglas, Osage, Miami and Anderson counties.
Directors, officers and employees of the bank are very involved with the growth and development of our community. The bank recently was awarded the Ottawa Area Chamber of Commerce Annual Community Builder's Award. Among its directors, officers and employees, the bank can claim past-presidents of O/FCED, plus several current or former Chamber of Commerce Board Members, Chamber of Commerce Committee Chairmen, Leadership graduates, and Quarterly Image Award winners. Collectively, we belong to over a dozen churches, several PTA groups and Booster Clubs, Ottawa Main Street, Franklin County Fair Board, BPW, Soroptomists, Farm Bureau, area FBLA Advisory Boards and Volunteer Fire Departments. Several employees are always on hand to show support for local businesses at Grand Openings and ribbon cuttings, Chamber Coffees and award ceremonies.
The bank knows the value of building the community not only by attracting new business and industry, but also by building from within, and the significant, positive economic impact that it can have. Through growth and expansion, we have consistently created new jobs. Several years ago, a marketing campaign and slogan began using "Shop With Hometown People That You Know". That program was given new life recently when stickers were given to area business to put on their doors encouraging people to "Shop Our Hometown First".
Through all of these things, both the Kansas State Bank and its employees continue to make a positive impact on building the communities we serve, making it a better place in which to live and work.